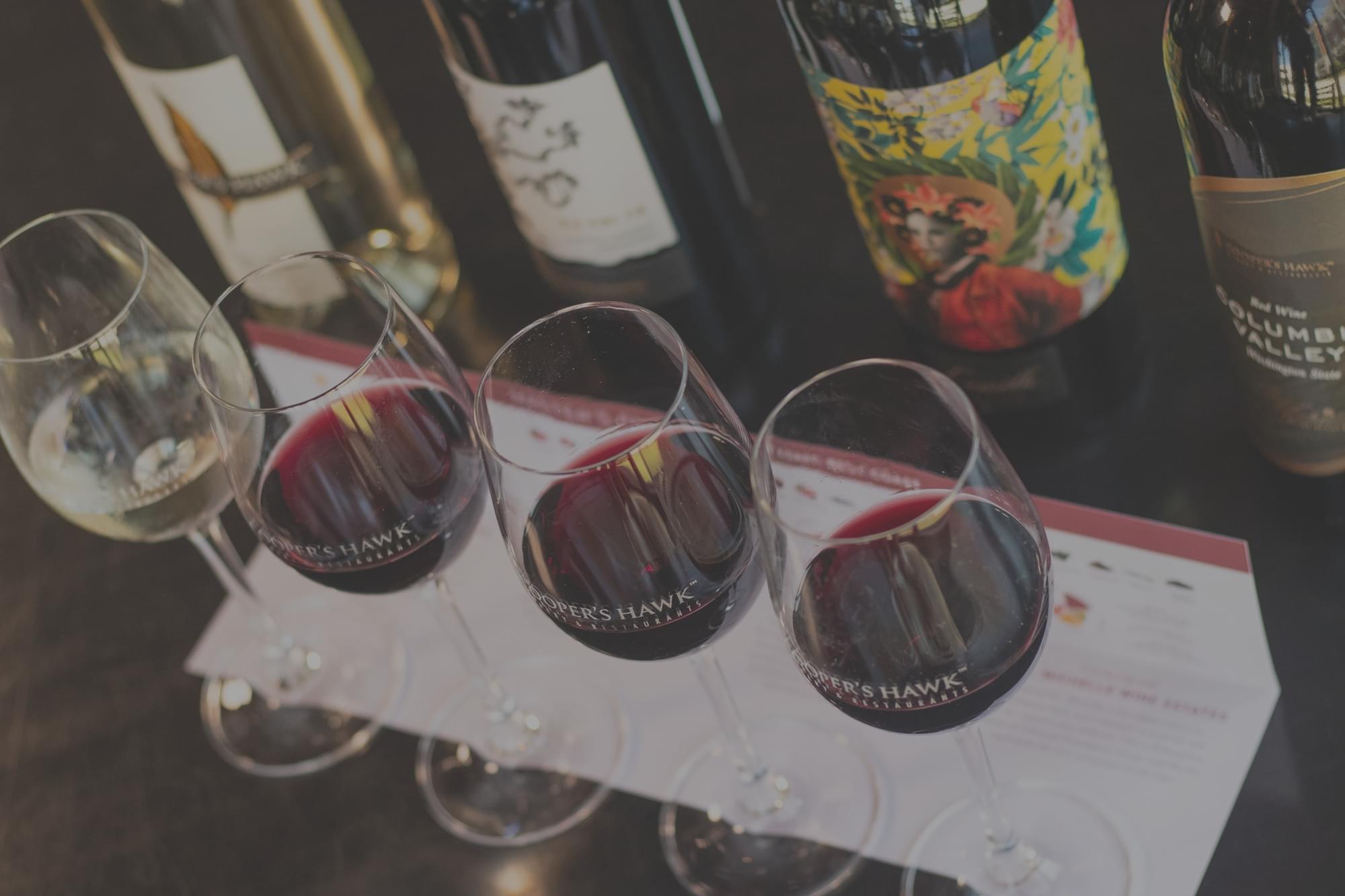 Wine Tastings
Esquire offers a unique Napa-style tasting experience, we are currently featuring three unique tastings
From classic favorites to hidden gems and hard-to-find cult wines, we have created tasting experiences that bring the best of the world of wine to you. Discover our cellar tour designed to inspire and demystify the exciting World of Wine!
Current Wine Tastings
BLANC DE BLANC
Tasting Notes: Green Apple, Peach, Lemon, Flowers, Pear

COOPER'S HAWK WHITE
Tasting Notes: Pear, Apricot, Passion Fruit, Melon, White Flowers
RIESLING
Tasting Notes: Lime, Green Apple, Honey, White Flowers
GEWÜRZTRAMINER
Tasting Notes: Lychee, Melon, Grapefruit, Roses, White Flowers
CAB ZIN
Tasting Notes: Blackberry, Black Currant, Plum, Chocolate, Spices
ISOLA DEL MARE
Tasting Notes: Cherry, Star Anise, Plum, Leather, Sun-Dried Tomato
SUPER TUSCAN
Tasting Notes: Black Cherry, Star Anise, Blueberry, Leather, Herbs
WHITE SANGRIA
Tasting Notes: Passion Fruit, Apricot, Tangerine, Yellow Apple, Pineapple
Cooper's Hawk ROSÉ | A COLLABORATION WITH KATIE LEE BIEGEL
Tasting Notes: Strawberry, Watermelon, Roses, Lemon, Guava
Maison Noir LOVE DRUNK ROSÉ
Willamette Valley 2022
Tasting Notes: Strawberry, Kiwi, Watermelon, Raspberry, Rainier Cherry

Cooper's Hawk ISOLA DEL MARE
Tasting Notes: Cherry, Star Anise, Plum, Leather, Sun-Dried Tomato

Cottanera DICIASSETTESALME
Enta Rosso 2019
Tasting Notes: Raspberry, Strawberry, Dried Herbs, Orange Peel, Rose Petal

Cooper's Hawk GOLD RUSH
Tasting Notes: Violet, Pepper, Black Cherry, Cloves, Blueberry Jam

Yalumba SANCTUM CABERNET SAUVIGON
Coonawarra 2018
Tasting Notes: Black Current, Red Currant, Bay Leaf, Smoke, Cedar

Our premium tasting offering rare wines from our Wine Tower and is updated continually. Visit our Tasting Room to find out more.
Wine tastings are in the Tasting Room and will be guided by a Tasting Room attendant. Wine Club Members can enjoy their complimentary tastings at Esquire and also receive Member discounted pricing the Esquire Tasting and the Tower Reserve Tasting.